Welcome to the new Emdash.
By Ranjani.
2023 marks the tenth year of Emdash.
An odd May evening in 2013, I found myself without a job, prospects or any hope of finding one. Almost as if I had no other choice, I took up freelancing as a writer.
Emdash began as a half-hearted call with Alan Alper, the then Editorial Director of Cognizant. He placed his faith in a young writer, who had a silly blog to show as her portfolio. He trusted me and I was determined to be worthy of it.
Building off that, over the last ten years, Emdash has always been the friendly neighbourhood content company.
Now is the time to take it a notch higher.
Introducing the new Emdash — a bolder, more focussed, more ambitious content agency.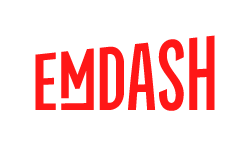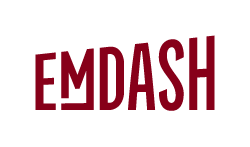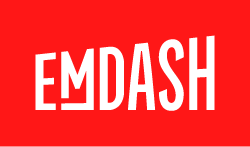 In a way, we've chosen to take a starkly different path from the one the previous brand stood for.
The all caps logo — in contrast to the all small one we had before — signifies a stronger voice. The integrated wordmark should do away with the confusion of whether it's ee-yem-dash (legit problem, trust me!) or just Emdash. The rising height of the wordmark also signifies a clear, straight and growing path to the future.
We've also moved to a warmer colour palette. The red standing for ambition and joy. The maroon grounding the brand — just as we endeavour to ground technology in the real world through our writing.




The monogram too, a bit of a synecdoche — the 'm' and the connected dash standing for the brand as a whole.
What's changed?
As a customer, it's only fair for you to wonder what's changed for you. So, here we go.
Super-specialised
As we've been exploring where we add the most value for our customers, we see that it's in the niche. From now, we're only taking on long-form content creation work. This means e-books, whitepapers, reports, and anything that's substantial and cornerstone.
Off-beat
We want to take up work that most writers wouldn't have experience doing. Award nominations, for instance. We've written two over the course of 2022 and it's been delightful for us. And taken a whole load of worry off our client's shoulders.
Consultative
SEO content is great, but Emdash would be a horribly overpaid agency to just meet the needs of Google's bots. Instead, we want to work closely with founders and leaders to find the differentiating voice of their brands. We want to take their vision to the world.
Curious
Building something you're not sure the world will understand? Bring it to us. Want to translate techese for business audience? Aye! Too many objections at your sales meetings? Let's see what's going on.
The new Emdash solves business problems with content. Simple.
What's not changed?
Nothing else, really. We'll continue to strive to do great work. We'll do as many reviews/iterations as you need to match your vision. We'll take on only B2B tech content, doubling down on our niche. We'll expect payments on time. :)
Who did the rebranding?
Glad you asked! :)
Brand design: Pavithra Ramanujam
Website design and development: Shankara Subramani S
Merchandise design: Ranjani and Shankara Subramani S
Merchandise execution: Vamseedher K and Dinesh C
Merchandise vendors: The Leather Chef, Hindustan Trading Company and Rajhams Digital
General dogsbody, program manager and thumb-twiddler: Ranjani